E-shopping taps consumer ease, opportunities
4 min read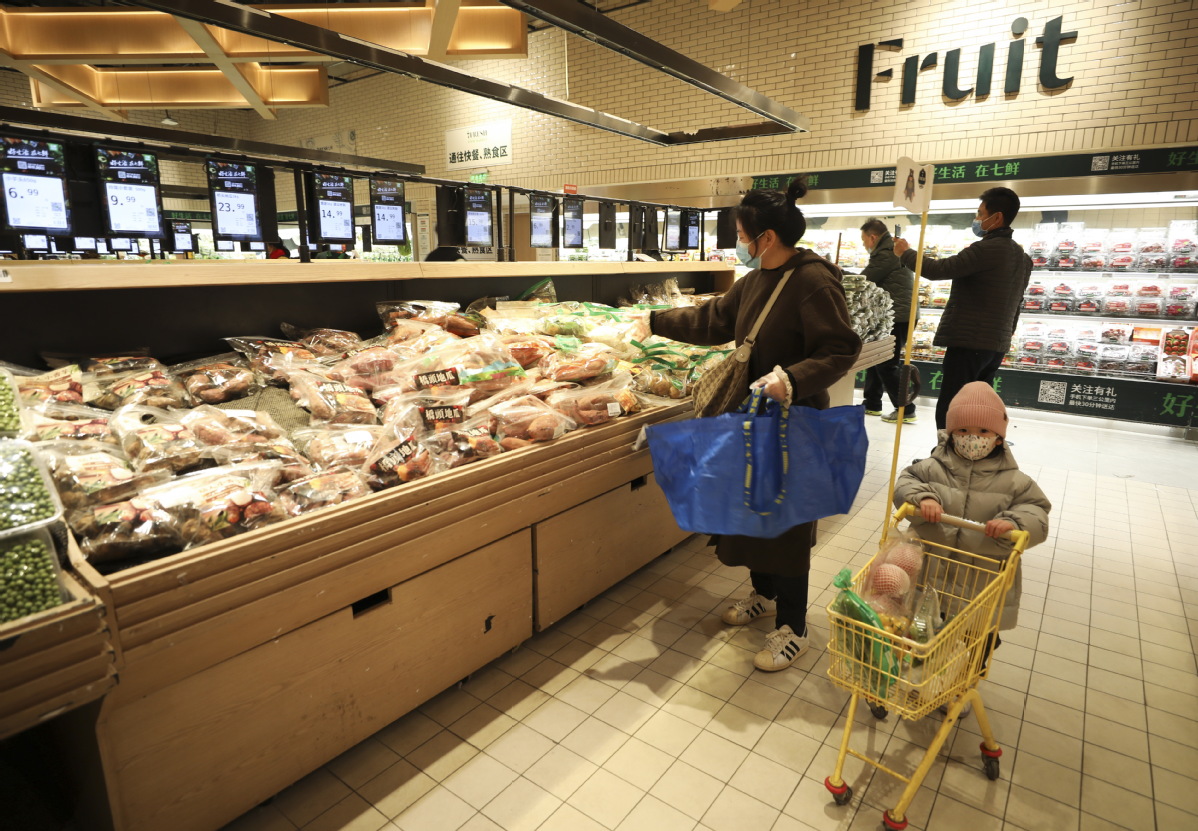 More Chinese buyers purchasing daily needs via online commerce platforms
Zhang Yunfan, a 32-year-old fashion magazine editor living in Tongzhou district, Beijing, has been frequently trawling mobile apps and filling her e-shopping carts with a range of products, such as fresh vegetables, fruits, beverages, seafood, cooking oil and other groceries since the outbreak of the COVID-19 pandemic.
"I choose their quick delivery service so the items I ordered online will appear within an hour," Zhang said, adding that all the items look and taste authentic, and seemed worth the prices she paid for them.
Like Zhang, hundreds of millions of Chinese consumers are willing to vouch for the efficiency and reliability of the emerging online services sector. The country's middle- and high-income shoppers now demand increasingly diversified and personalized products and services via online marketplaces, said industry insiders.
China's consumer market is expected to maintain growth momentum this year, fueled by the rising per capita disposable incomes of Chinese residents and the convenient and efficient e-commerce channels, showcasing strong resilience and vitality, analysts said.
They noted that online shopping has injected new impetus into China's consumption and ensured people's livelihoods during the pandemic. They also expected more supportive measures to further perk up consumers' confidence, given that the country's economy faces new downward pressure, rising challenges from a new wave of COVID-19 infections in some major cities and a complicated external environment.
Consumption has become a major driving force for boosting the stable recovery of the national economy. Data from the National Bureau of Statistics showed China's final consumption expenditure contributed to 65.4 percent of China's economic growth in 2021, driving GDP growth by 5.3 percentage points.
As the contactless economy boomed amid the pandemic, Chinese consumers are increasingly embracing on-demand consumption and switching to online purchasing, with e-commerce platforms that deliver daily necessities witnessing a significant increase in business.
Market consultancy iResearch said the gross merchandise value of the on-demand retail market is expected to amount to 900 billion yuan ($141.5 billion) in 2024, and the compound annual growth rate of the local online-to-offline retail sector will reach 62 percent between 2020 and 2024.
According to a report issued by JD Super, the online supermarket arm of Chinese e-commerce giant JD, the top five cities that use Shop Now, a one-hour delivery service jointly launched by Chinese e-commerce giant JD and leading on-demand delivery and retail platform Dada Group, are Beijing, Shenzhen, Guangzhou, Chengdu and Shanghai.
Beer, snacks, paper towels and baby formula are among the most commonly purchased products. Consumers under the age of 35 account for 55 percent of total users, while shoppers aged over 46 take up 24 percent, and prefer to buy daily necessities such as soybean oil, the report noted.
Furthermore, the growth rate of female users born after 2000 exceeded six times year-on-year in 2021, and they are keen to purchase high-quality nutritional products such as premium milk through Shop Now services.
At present, JD Super with Shop Now services has covered more than 34,000 physical stores, providing immediate consumption services to consumers in nearly 400 cities across the nation.
Convenience becomes a key factor to consider when people make consumption decisions, and the on-demand consumption segment is poised to be a vital growth driver and the next battlefield for e-commerce platforms, said Lu Zhenwang, CEO of Wanqing Consultancy in Shanghai.
"Consumption plays a fundamental role in China's economic development and is the main driving force boosting economic growth," said Wang Yun, a researcher with the Academy of Macroeconomic Research.
The growth rate of domestic consumption slowed down in March as the country has experienced a resurgence of COVID-19, with some cities and provinces seeing a rapidly rising number of infections, said Wang, adding the consumer market is expected to witness a recovery of growth from May as the COVID-19 pandemic will increasingly come under better control.
Wang said, online shopping is conducive to boosting the dual-circulation development paradigm, which takes the domestic market as the mainstay while domestic and foreign markets complement each other, unleashing consumption potential and fostering high-quality economic growth.
She estimated that total retail sales of consumer goods, a vital consumption indicator, are expected to grow 6 to 7 percent this calendar year, given that a complex, grim and uncertain external environment and the pandemic might weigh on consumers' purchasing willingness.
China will promote the sustained recovery of consumption, boost personal incomes through multiple channels and improve the income distribution system to increase people's spending power, according to this year's Government Work Report.
In the next step, the government will bolster the in-depth integration of online and offline consumption, and foster new consumption formats and models, the report said.
"China boasts a sizable consumption market, with tremendous development potential and resilience. Against the backdrop of unilateralism and trade protectionism coupled with the pandemic, the country's consumer market continued to expand buoyed by scientific pandemic prevention and control measures," said Zhao Ping, deputy head of the Beijing-based Academy of China Council for the Promotion of International Trade, underlining the top priority to stabilize the economic growth lies in maintaining the stable growth of consumption.