Affordable Friday for the kiddos – and me ;)
5 min read
I can't believe we're already talking back to school! I know for some people school doesn't start for a couple months, but for my kiddos it's basically a month away! I can't believe we're already halfway through our summer. At our school, the school year ended at the end of May and the kids start up again mid-August. So I'm starting my back to school Affordable Friday posts now! Plus, these outfits can also be worn all summer long if your kiddos just started break!
Look 1 – Overalls and Comfort
I have to start with these absolutely adorable overalls. They're mostly for younger kids. They come in sizes 12 months up to 5T. Molly is in the 5T. But I just love love love overalls on her so much and this pair with the cute daisies are just precious! Click this link because it also comes in a few other styles. I love the pink ones with the ruffle detail on the straps so so so much. They're all only $13.98! Such a steal and such great quality.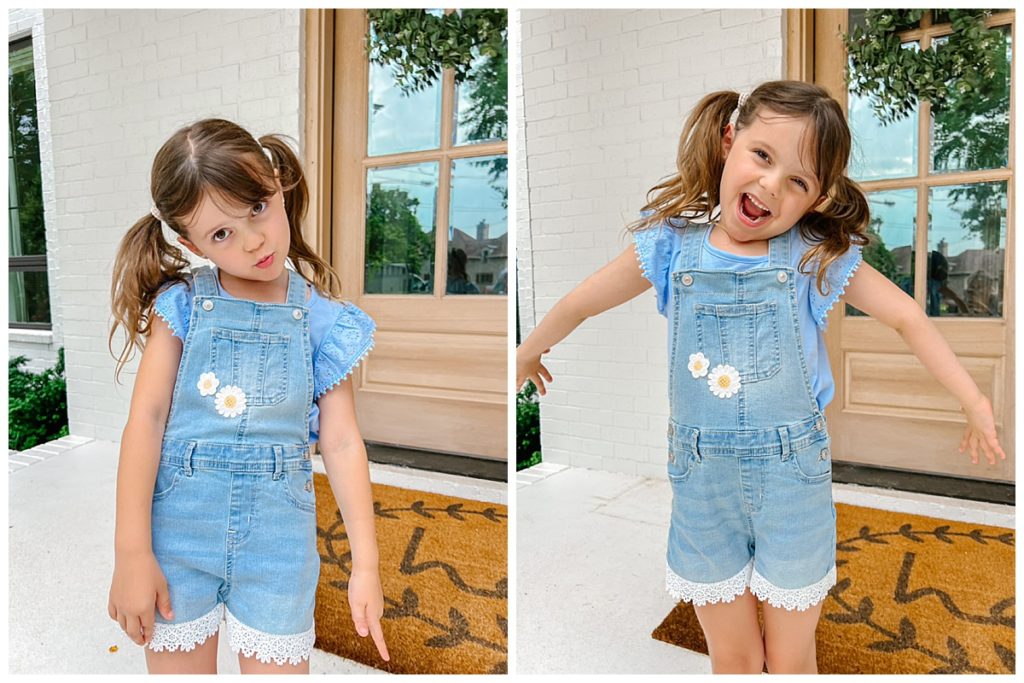 For Riley's outfit, I was really focused entirely on comfort! I got the shorts in a five pack for around $33. Which means each pair of shorts is only a little over $6. They're super comfortable and easy for him to pull up and down and since we still have some issues with not having accidents, that's super important. They come in sizes 4 to 18 and also in husky sizes.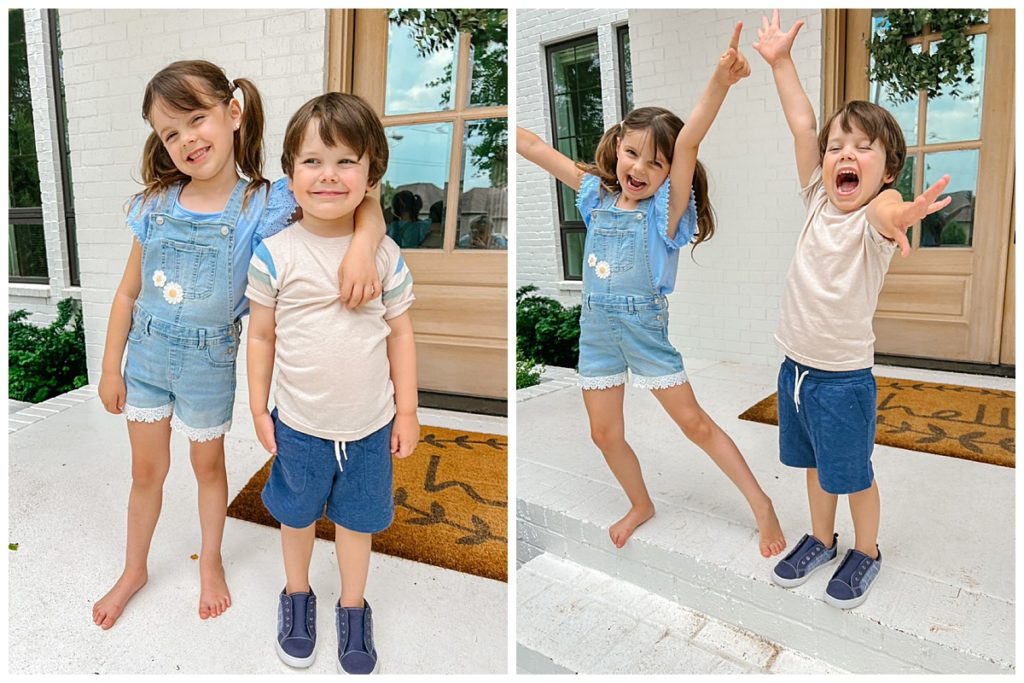 1. OVERALLS | 2. BLUE TOP | 3. 2-PACK T-SHIRTS | 4. 5-PACK SHORTS | 5. SNEAKERS
Little boys t-shirts can get kind of boring in my opinion, so I really like that this one has a cool detail on the sleeve but not like a dinosaur character on front. Ha! Don't get me wrong I'm all for the kids having their fun playful clothes, but I'm just kind of over the characters so if I can find something cute with a cool design, I'm all for it.
Look 2 – Plaid Shorts and Patterned Tee
I also love love love this outfit on Molly. The shorts come in a two pack for $13.96. Making each pair under $7. I just adore the plaid pair. There's also really cute neutral chambray pair that will work for pretty much any top. But I paired the plaid ones with this cute little lace sleeve top. I got it for both Molly in both light blue and white. Just because it's such a great little top to pair with so many things. This is the same top that she's wearing underneath the overalls.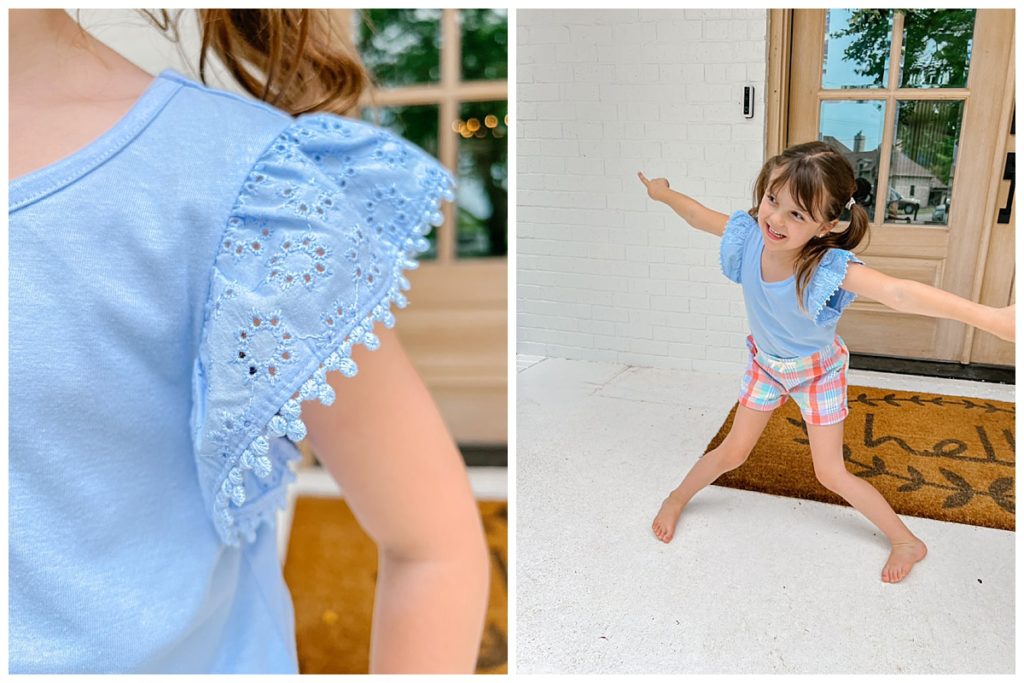 1. BLUE TOP | 2. PLAID SHORTS
Riley is wearing another pair of shorts that I got in another five pack for only $22.41. That makes each pair of shorts around $4.50! I also love how there is a bunch of different ones for different looks like camo, navy, and khaki!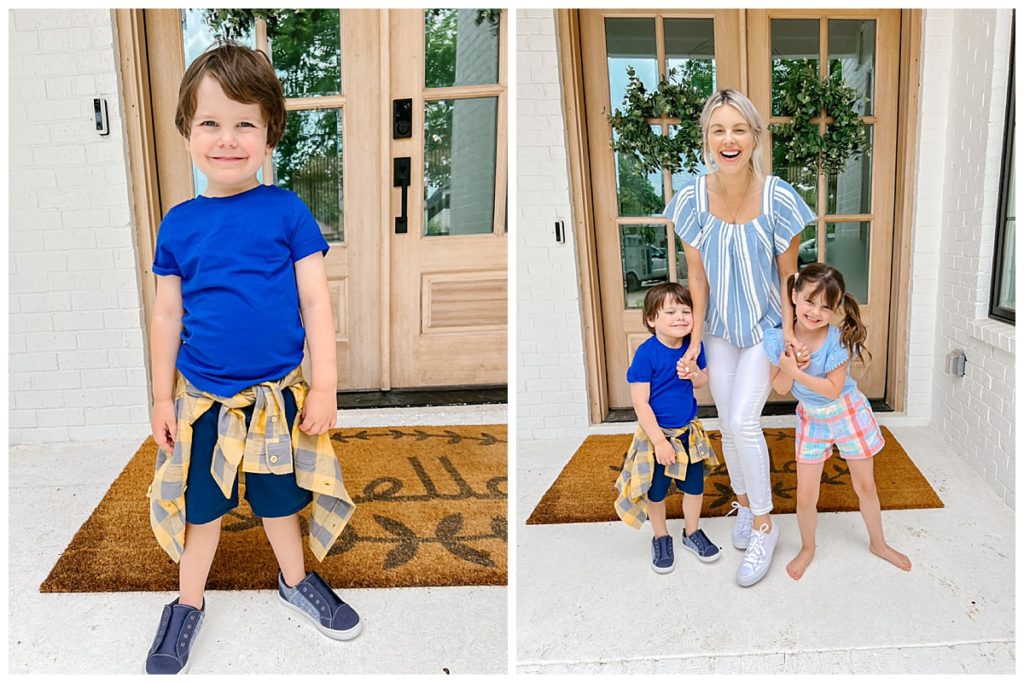 1. MOLLY'S BLUE TOP | 2. PLAID SHORTS – 2 PACK | 3. RILEY'S TEE + FLANNEL | 4. RILEY'S SHORTS – 5-PACK | 5. RILEY'S SNEAKERS | 6. MY SHORTS | 7. MY TOP | 8. MY SNEAKERS
With the shorts, he's wearing a cute little blue t-shirt that actually came as a two pack with a yellow and blue flannel for only $9. Yep, $9 for both! I love how they look together, but they're also really cute separate and in these pics I just tied the flannel around his waste since it's warm right now so he won't be using the flannel until fall comes around.
Also linking Riley's shoes for you guys! I love that they're blue and they stay on easily and I love that he can slip them on and off but also have a good fit (there is velcro on the sides). They are under $10! They have 40 really great reviews so read the reviews if you want other parents opinions!
Look 3 – Molly's Darling Dress
Oh my gosh, how cute is this dress! This one is for older girls (well, older than the overalls option) and comes in sizes 4 to 18 and plus sizes. It is so so so so darling and under $15. This would be such a cute school day picture dress or first day of school dress! Molly is wearing a 6 in all theses oufits EXCEPT for this dress. The 6 was too big but the 5T is perfect! So size down in this one.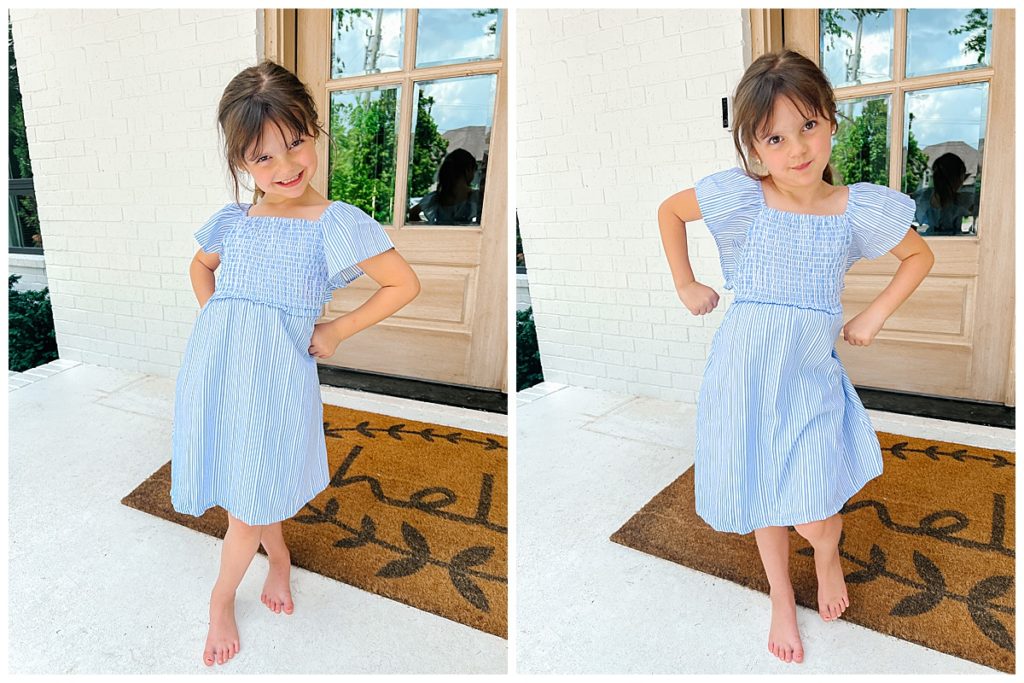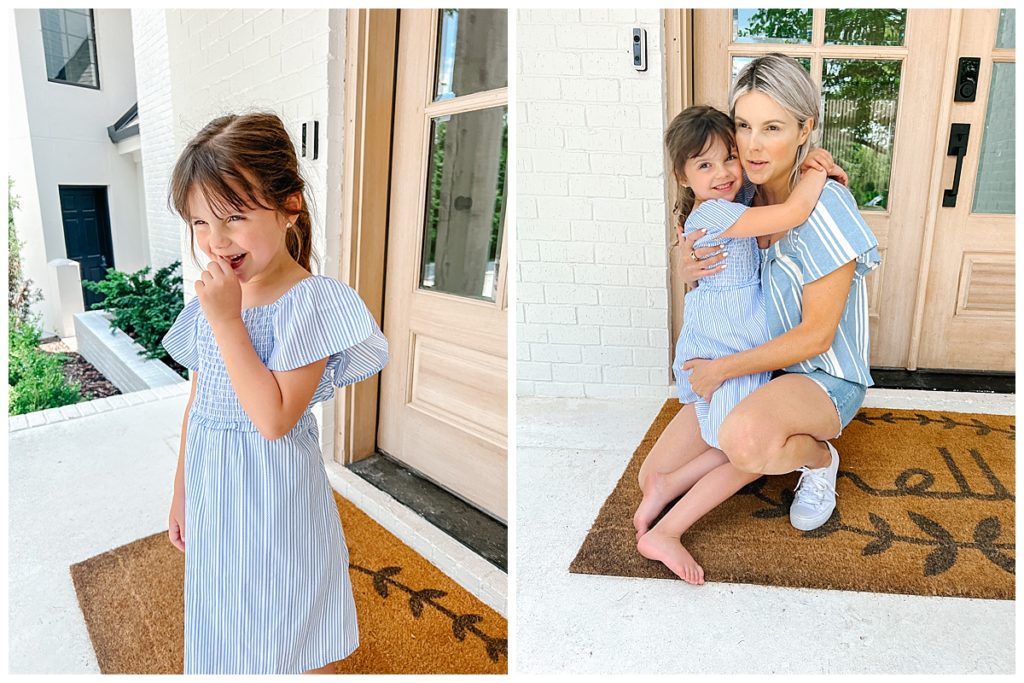 1. MOLLY'S DRESS | 2. MY SHORTS | 3. MY TOP | 4. MY SNEAKERS
Look 4 – School Uniform


 1. UNIFORM-LIKE TOP | 2. PANTS
Last but not least, I wanted to show a school uniform type of look since I know a lot of kids wear these to school as well. School uniforms can be expensive on other sites! Both this top and bottom you can get for under $10 each! Even if your child doesn't have a school uniform, I just think the little tunic top is so darling and also would be really cute for school picture day.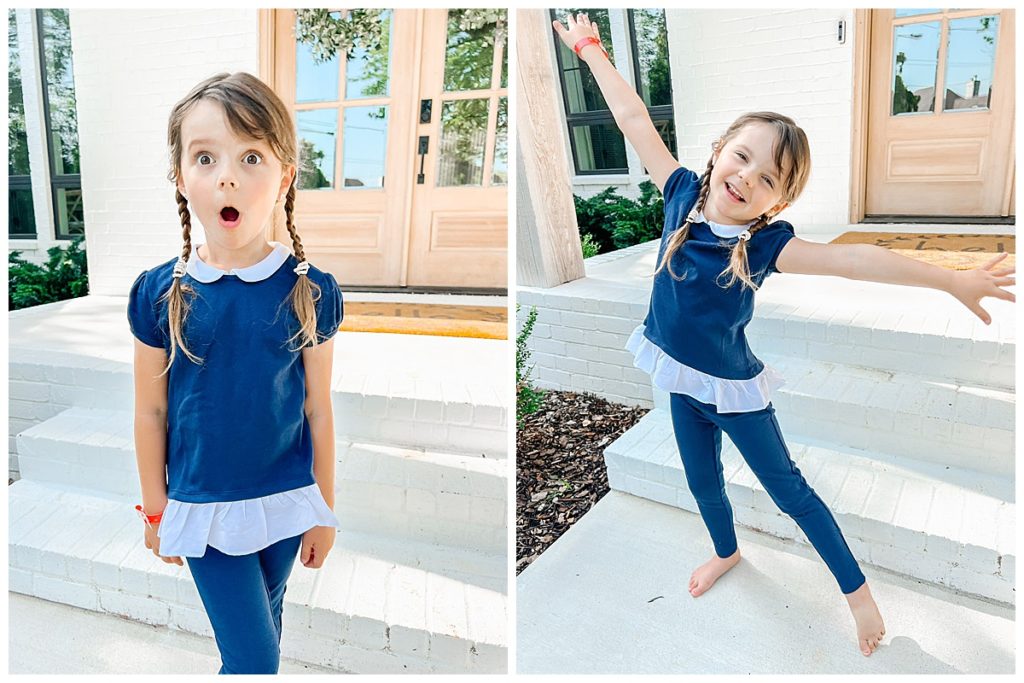 1. UNIFORM-LIKE TOP | 2. PANTS
My Outfit
I also want to link my outfit for you guys just in case you're wondering. I'm wearing denim shorts from Sofia Vergara's line that are only $25 and so flattering! I love love love the cut of them! Then I'm wearing a $12 Free Assembly top. I love Free Assembly because they are a brand that really cares about sustainability and the quality is so good! I have this top in both the blue and white striped and then the bone color! The sleeves and squared neck and so darling. Size DOWN in it! I am normally a size medium but I got a small in this top.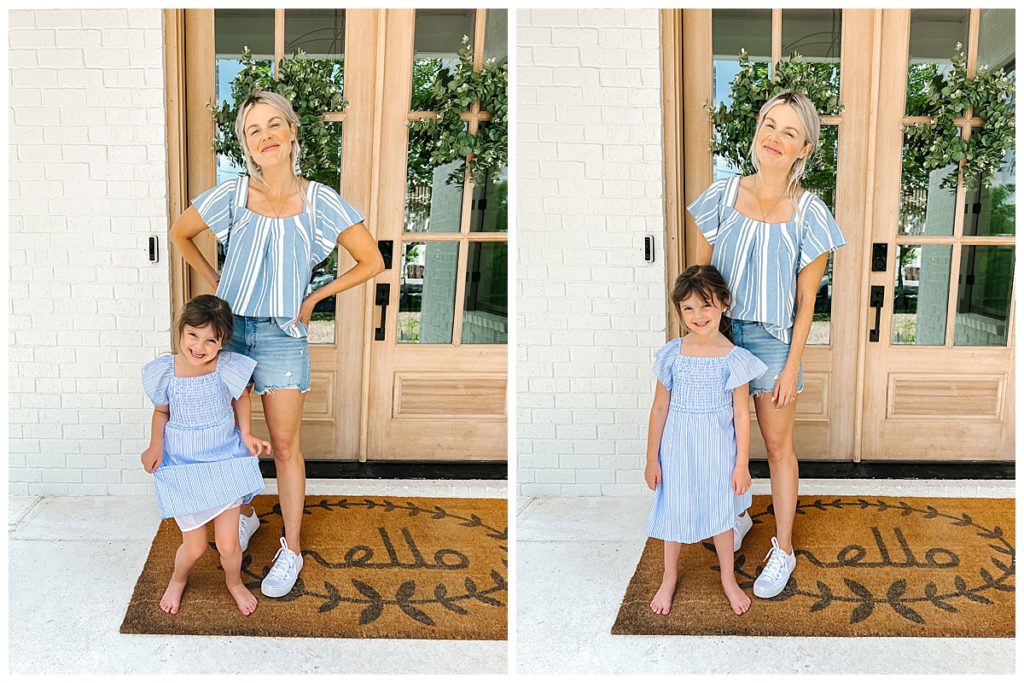 1. MOLLY'S DRESS | 2. MY SHORTS | 3. MY TOP | 4. MY SNEAKERS
Can't Believe We are Half-Way Through Summer!
Hope this is helpful for you guys! Schools gonna be here before we know it so I wanted to provide some options for you guys so it's one thing you can check off your list and not have to worry about this at the end of summer.
And thank you to Walmart for being a sponsor of my site!