Pique BTox Fountain Beauty Electrolyte Drink review
7 min read
Hyaluronic acid and ceramides are skincare ingredients we all love, but did you know that they can be just as good for our skin and health in supplement form? 
"No more pills please!" you're thinking, and I 100% get that. Swallowing pills is about as joy sparking as scooping cat poop for me, so when Pique sent me their B•T Fountain Beauty Electrolyte (originally called BTox Fountain) to try, I was relieved. No pills!
In fact, it's the opposite of boring (and unpleasant) pills – a refreshing yuzu berry flavored powder that will easily mix into water or any drink of your choice. Let's take a closer look!
Overview
Claims
Restore your skin's moisture and elasticity for a dewy glow from the inside out. A breakthrough in total hydration with natural ceramides, hyaluronic acid, electrolytes and minerals to replenish your cells and reduce fine lines. Powered by cutting-edge F-SIS™ technology for enhanced absorption.
Best suited for
– Anyone looking for a collagen supplement alternative for improving their skin health from within.
– Anyone who struggles with drinking plain water and want a sugar-free flavor additive with health benefits.
– Anyone who would like to take hyaluronic acid or ceramide supplements but can't stand pill forms.
– Anyone looking for a beauty supplement to complement their skincare routine.
Packaging
Comes in a box of 28 individually packaged, easy-to-open sachets. Each sachet contains 3.75g of powder.
Texture & Taste
Pink powder that melts easily into cold water with a bit of stirring. Tastes like light pink lemonade with no detectable aftertaste.
How I use it
One sachet a day with 20oz of cool water in the morning. The flavor is lighter but the taste is still noticeable.
Purchase
$68 per box at Pique, 10% off if you order 2, 15% off if you order 3; OR if you subscribe, it's 10% off 1 box, 15% off 2, and 20% off 3! Plus get a pretty glass water bottle for free with 2+ boxes!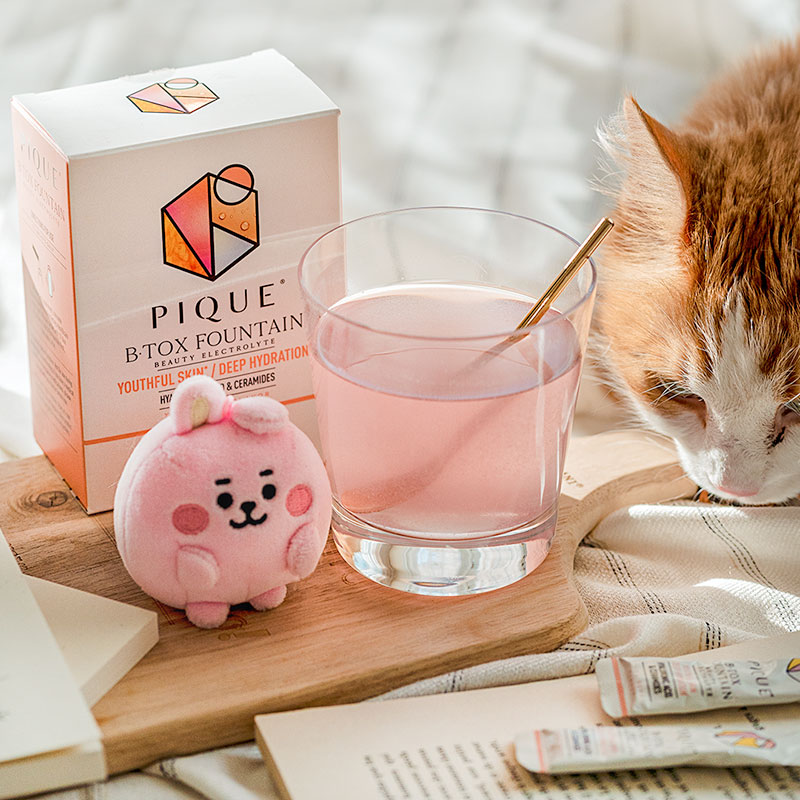 Ingredients Highlight
Calcium, Magnesium, Sodium, Potassium, Phytoceramides (from non-GMO wheat seed extract), Sodium Hyaluronate (a premium form of hyaluronic acid), pure coconut water powder, Himalayan pink salt, silica, Citric acid, natural yuzu raspberry flavor, beet root juice powder, monk fruit extract
We know that hyaluronic acid and ceramides have proven skincare benefits when applied topically, but what about ingesting them orally? Let's see what research says:
Hyaluronic Acid Skin Benefits
A substance found naturally in our bodies, especially on the skin, where its job is to retain moisture and keep our skin hydrated. But with age, pollution, and UV rays, hyaluronic acid levels (much like collagen) in our skin decreases.
Studies have found that taking hyaluronic acid supplements can help replenish the HA levels in our skin1,2. Specifically, multiple tests found that taking these supplements significantly improved skin hydration levels after ~6 weeks, with one noticing reduced aging features like fine lines and wrinkles after 12 weeks3.
Most of these studies used 100+ mg of HA, which is 3x higher than Pique B•T Fountain's daily serving. However, one study used 37.52 mg daily for 30 days and saw the same results!
Ceramide Skin Benefits
Another natural component in our body, making up to 30-40% of the outer layer of our skin! Ceramides are essential to maintaining healthy skin barrier function, like keeping moisture in and bad stuff out.
Much like hyaluronic acid, ceramides also decrease with age, leading to reduced skin barrier function. This is why we're prone to drier and dehydrated skin when we get older. All the more reason we need to replenish this important ingredient!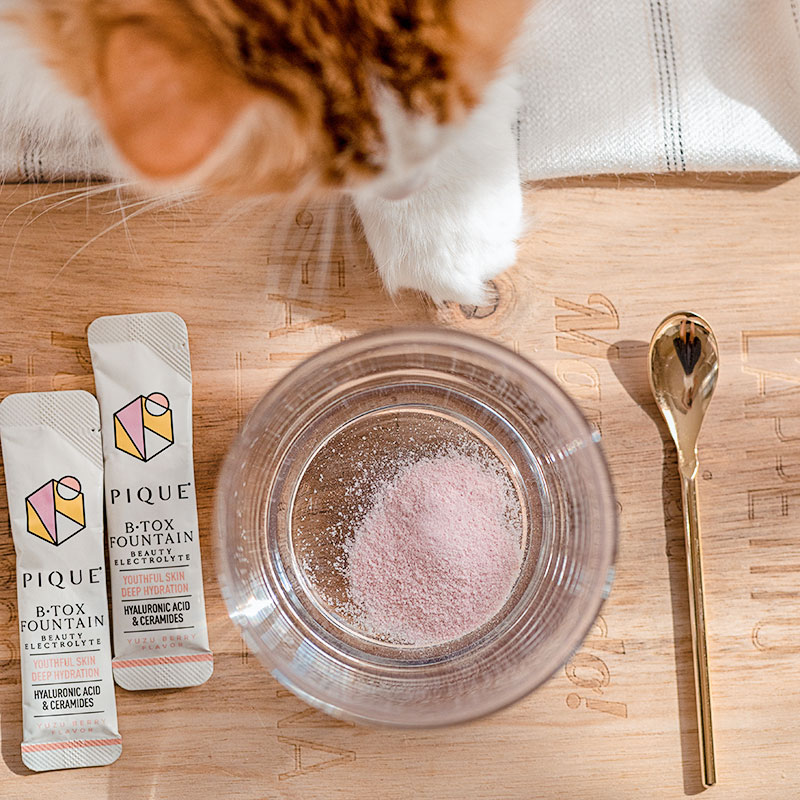 Multiple studies have found improve skin elasticity, hydration, and smoothness when taking oral ceramides for 4+ weeks4,5. They've also found that ceramide supplements can help decrease moisture loss in the skin and even decrease the appearance of brown spots6!
Electrolyte Skin Benefits
Of all the beauty supplements I've tried, this is the first time I've seen minerals included in the ingredients. Specifically:
Calcium (as Calcium Malate)
Magnesium (as Magnesium Glycinate)
Sodium (as Sodium Citrate and Sodium Chloride)
Potassium (as Potassium Citrate and Potassium Chloride)
This group of minerals is often what we call electrolytes, which serve many essential functions in our body, including keeping us hydrated7. While electrolytes don't offer specific skin health benefits, it's important to replenish them as they get depleted when we sweat or drink alcohol. 
My Pique B•T Fountain Results
This isn't the first skin health supplement I've tried, so I know it takes time to see results. As expected, nothing the first few weeks, but by week 4, my skin felt noticeably smoother. I used to get roughness around my cheeks that would require an exfoliating toner 1-2 times a week, but since drinking Pique daily, I've barely reached for my acids!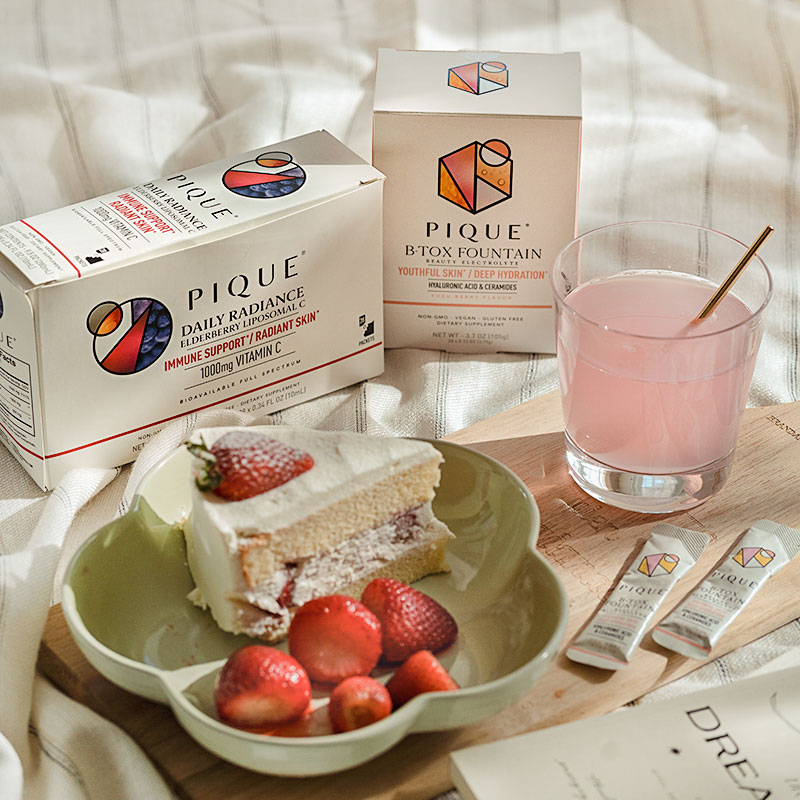 In addition to skin texture improvements, skin hydration levels increased as well, and my face is now less prone to dryness! This could be just me actually drinking enough water and staying hydrated (Pique makes it so easy with the yummy flavor), but it's also in line with the ceramide study results above.
I haven't noticed any significant difference in skin elasticity or fine lines yet, but that's harder to gauge as I'm actively using other products in my skincare routine to address these issues. Keep in mind this is all just after 4 weeks of taking Pique B•T Fountain. Based on the studies' timelines, it's definitely possible to see further improvements if I continue drinking this!
One thing to note, I occasionally see some condensation/crystallization of the powder, but the brand has assured that it's 100% normal and safe to consume!
Pairing with Daily Radiance Elderberry Liposomal Vitamin C
Another supplement from Pique's Radiant Skin collection, Daily Radiance contains 1000 mg of Vitamin C + 1900 mg of Elderberry Juice Concentrate encapsulated in 250 mg of essential phospholipids to prevent oxidization and enhance absorption.
Vitamin C both topically and orally is essential to glowing skin, and this one tastes like tart berry jelly! Since I'm already getting plenty of vitamin c in my daily superfood smoothie and multivitamin gummies, I didn't really notice a difference taking Daily Radiance. However if you're not getting your daily serving of fruits, a vitamin c supplement can make a difference!
Quick Summary
Noticeable skin health improvement in terms of texture and hydration, specifically skin feels smoother with minimal/no need for exfoliation.
No noticeable changes in terms of fine lines, skin elasticity, or glow yet.
Condensation is 100% normal and still safe to consume!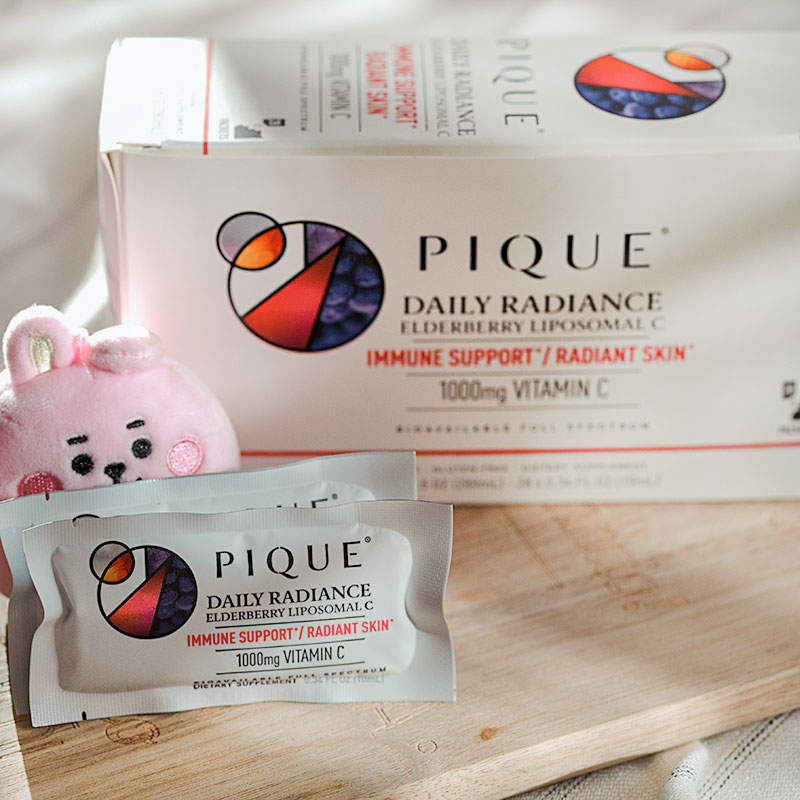 Pique B•T Fountain vs Collagen Supplements
As a long term user of collagen supplements, I have to admit that it's hard to pinpoint exactly how they've improved my skin. But when I stop taking them, I feel like my skin just isn't at 100%. They're like the EGF of skin care supplements, the research is there, but results can vary depending on the brand. 
With Pique, though it took time, the improvements in my skin health were much more obvious. It also tastes better than all the collagen powders I've tried, leaving no funny aftertaste. However, it's pricier than collagen, and if you take it long term, the difference adds up.
👑 Delicious refreshing flavor, no weird after taste.
👑 Dissolves easily in cool water.
One of a kind HA + Ceramides + Electrolyte powdered drink.
👑 Noticeable skin texture and hydration results after 4 weeks. No changes in skin radiance or elasticity yet.
More expensive.
Some are really yummy, others can taste fishy.
👑 Dissolves easily in cool water.
👑 Lots of options available, from plain collagen powder to collagen + other skin beautifying ingredients!
Some brands deliver more noticeable skin health improvements after 4-6 weeks, others don't seem to do anything 🙁
👑 Generally more affordable!
Final Verdict
Ingredients

Packaging

Flavor

Efficacy

Price
Overall I really liked Pique B•T Fountain. It made drinking water actually enjoyable, and I'm happy with the noticeable skin hydration results I saw after finishing my box. Regular price is on the higher end (take advantage of the current sale!) so I won't categorize this as a must-have, nor should this (or any other supplement) replace a well-balanced diet.
But if your budget allows, it can be a great addition to your skin care routine, especially if you've been disappointed by the taste or results of collagen supplements!
Article Sources
To keep my content accurate and trustworthy, I rely on peer-reviewed studies, articles from reputable academic institutions, and quotes from certified healthcare professionals to back my claims. No woo-woo clickbait nonsense here!