Red light therapy with Quasar MD Plus: a review
8 min read
LED masks are all the rage right now, and you've probably seen a million influencers wearing one in their selfies. Then there is the Quasar MD Plus, a skincare device that uses the same LED red light therapy but without the Jason from Friday 13th vibe. I got to try it for a few months, and here's what I found.
Quick Summary
The most comfortable of all the different skincare devices I've tried.
Uses effective wavelengths supported by studies to deliver results.
Requires more time commitment to see results.
What is the Quasar MD Plus?
Overview
"The Original Clinical Strength LED Light Therapy for Home-Use. Our LED red light technology works by delivering light energy to your skin cells that stimulates the cells to undergo self-repair. Healthier skin cells results in firmer, smoother skin!"
Wavelengths
610nm, 630nm, 660nm, and 850nm
Irradiance/Intensity
65 mW/cm2
Fluence
11.7 J/cm2 (65 x 0.001 x 180 seconds of treatment time)
Size
Treatment head is 5cm/2in in diameter, total length of device is 17.78cm/7inches
Treatment time
Depends on how many areas you want to treat. You need 3 minutes per area, so based on the treatment head size the entire session can range from 6 to 24+ minutes. It's recommended to use this 5 times a week for at least 8 weeks.
Pain level & Downtime
0! You may feel a hint of warmness, nothing close to the Tripollar Stop Vx' temperatures though. Your eyes may feel uncomfortable from the bright light, so Quasar MD has included an eye mask you can wear. There's also no downtime. My face wasn't even red afterwards, nor did my skin feel any dryness or irritations. However if you have sensitive skin you'll want to patch test first.
Purchase
$399 on SkinStore (use code JENNY for 25% off) or Dermstore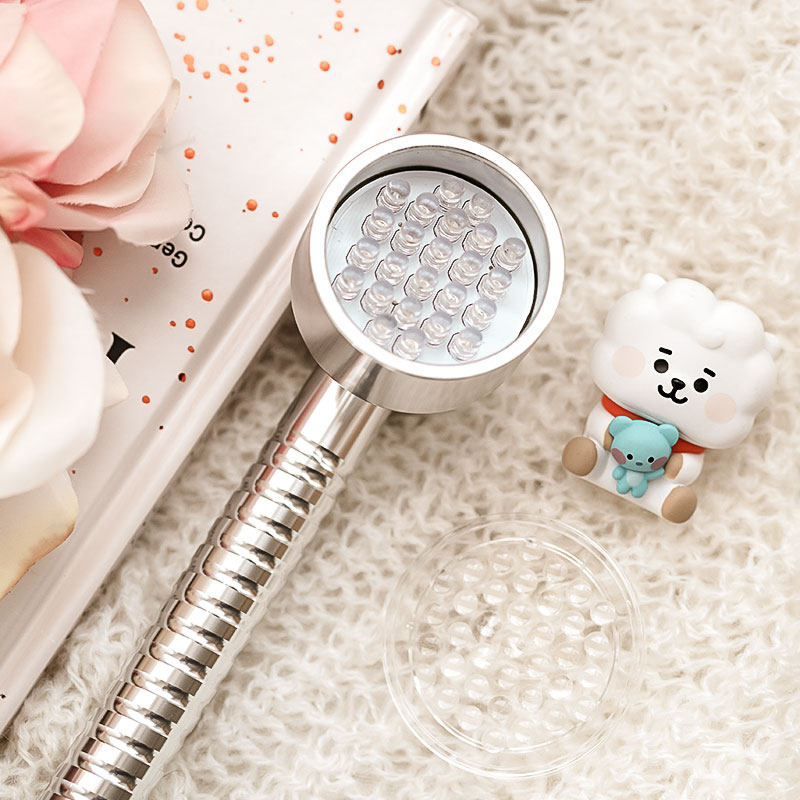 What is LED red light therapy?
Remember how we learned in science class that light is energy? Well that's what red light therapy (RTL) is – it's essentially sending "energy" to our skin cells which enhances their performance and allows them to do their jobs better. It's similar to how we're more productive when we've had a nutritious meal vs when we're hungry.
Current studies show that RTL may have the following benefits:
Increase collagen production to improve skin elasticity and reduce fine lines and wrinkles1.
Improve wound healing2
Help repair sun damage3
Reduce inflammation and redness4
Unlike laser or intense pulsed light (IPL), RTL doesn't damage the skin surface at all. Instead it penetrates 5 millimeters below the surface to stimulate the cells there.
If you're interested in learning more about the nitty gritty behind RTL, here's an excellent post from Goals To Get Glowing.
Instructions
Clean and dry your face, then plugin the device and turn it on by clicking the red power.
Press the treatment head against your skin, minimizing the gap between the device and the treatment area so as little light as possible gets out.
Hold the device in place for 3 minutes, at which point it will automatically shut off.

Move the device to the next area, and repeat steps 2 and 3.
Avoid applying the device over your eyes or eyelids!
When all areas have been treated, continue with the rest of your skincare routine.
Notes
The Quasar MD Plus works best when used on bare skin, however there are some hydrogel masks that are designed to work specifically with red light therapy that you can apply beforehand.
Quasar MD Plus Experience & Results
✅ Excellent specs and stronger irradiance compared to LED masks
Based on clinical studies5, 633nm and 830nm are the ideal wavelengths if you want to see anti-aging results, and Quasar MD's are pretty darn close. They also don't include any irrelevant and possibly detrimental wavelengths either. 
Their irradiance of 65 mW/cm2 is strong than the typical 30 mW/cm2 found in LED masks, which is a plus. If the irradiance/intensity isn't strong enough, there won't be enough "energy" to stimulate to the cells. The ideal range is approximately 40-150 mW/cm2, and the higher the number, the less treatment time required6.
❌ A pain to use consistently compared to LED masks
Sure the Quasar MD is stronger and only takes 3 minutes instead of 10 minutes for a mask, but this is for one area only! So at the very minimum each treatment will take you 6 minutes assuming you're using it on both sides of your face.
On average it'll take 18-24 minutes to cover your entire face, but if I wanted to be thorough, I could take up to 30 minutes to cover every area except my eyes! At least with a rechargeable LED masks you can multitask while wearing it, plus it covers my entire face in just 10 minutes.
❌ A lot of effort, very little results
Since we already compared the Quasar MD Plus to LED masks, let's talk other skincare devices:
The Tripollar Stop Vx needs to be plugged in as well, but it takes less time per session and less sessions per week. I'm also able to notice some immediate improvements and anti-aging results after just one month.
The Nuface Trinity and Foreo Bear are rechargeable, but I prefer to sit in front of a mirror when I use them anyways. Each session takes 10 minutes, and I notice instant lifting results on the strongest setting!
That's not to say the Quasar MD Plus doesn't deliver any results. Studies show that it takes up to 12 weeks to see significant improvements, but honestly I really didn't notice much, and I definitely didn't notice anything immediate or by the 4 week mark. So why would I waste my time with the Quasar when I could be using any of the other lower-effort-higher-result options?
❌ Flawed power button design
There's only one power button to turn the device on or off, so you'd think they get it right, but nope. Ocassionally when I push the button the light will flash once and turn off again. I'd need to hold the button for the light to turn and stay on.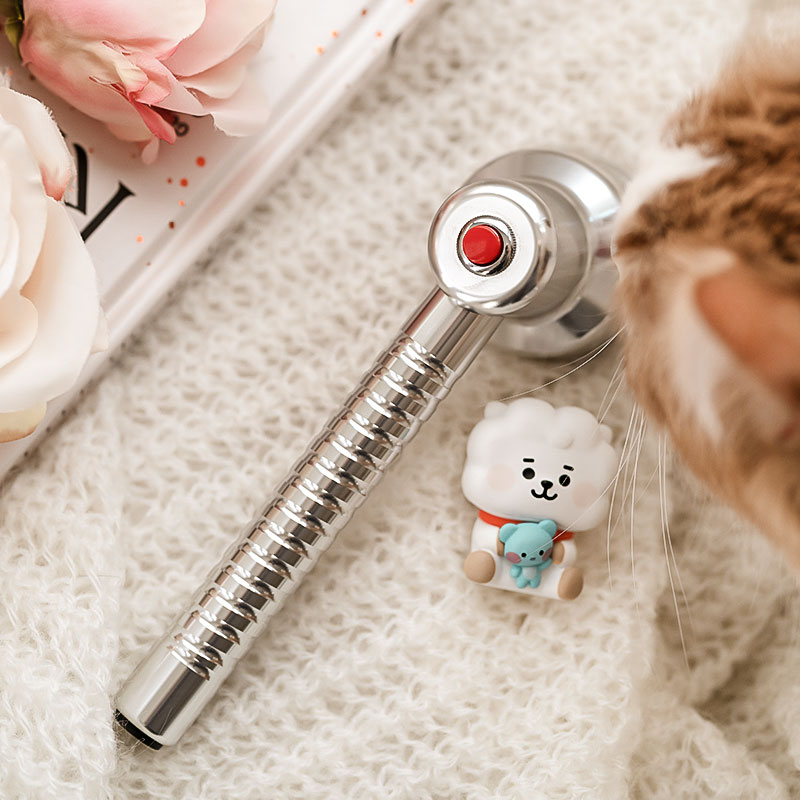 ❓ 90-day money back guarantee…with conditions
While I respect a brand for standing behind their product by offering refunds within 90-days, it's not as great as you think. It only applies to products purchased directly from their website, and you're responsible for return shipping and insurance. Also you better keep the original packaging otherwise they're deducting $25 from your refund.
What others are saying
Personally, I like and recommend Quasar MD PLUS, but I must admit that if I had paid (the hefty) full price for the device, I would be disappointed that my results are not miraculous. 

Melissa Davis, The Beauty Librarian
I'm in my 30s and I don't really have wrinkles yet, so I can't speak to how well this reverses the signs of aging – however, I can say that it definitely does *something*, because my skin heals much faster and looks much better when I use the Quasar MD consistently. 

Anonymous, Dermstore
I'm surprised by the good reviews on here, based on my experience with the device so far. I have used it 6 days a week for over 3 weeks now with no results. I have some wrinkles on my forehead around eyes and mouth, and they do not even look less noticeable. 

Blondie74, SkinStore
Final Verdict
Design

Comfort Level

Ease of Use

Performance

Price
In the 2010's, before LED masks became a thing, I can see the appeal of the Quasar MD Plus. But given our incredible option of skincare tools and technology, nothing about this tool stands out, at least not in a good way.
If you have a lot of time on your hands, don't like the idea of LED masks, and feel like you can be committed to multiple devices (because I would 200% recommend the Tripollar, Nuface, or Foreo Bear before this one), then sure, why not? But for the rest of us who value our time just as much, if not more than our skin, this is a hard pass.
FAQs
Is Quasar MD safe to use while pregnant?

You should not use the device while pregnant as no studies have been done on the effects of red light therapy during pregnancy.

Is the Quasar MD safe for all skin tones?

According to studies, hyperpigmentation is only an issue when wavelengths under 600nm is used7, which is not the case with Quasar MD Plus.

Can you use Quasar MD Plus with other skin care tools?

Since there's no damage to the skin, no downtime, and pretty much no irritations with using this, you could proceed with your other skincare tools afterwards. It's more of a time constraint issue than safety issue in my opinion.

Is the Quasar MD FDA approved?

No, currently it is FDA cleared. This means the manufacturer has shown that this device is is "substantially equivalent" to another similar FDA-approved or FDA-cleared device, in this case the LightStim for Wrinkles, which is 1) only FDA cleared as well 2) actually cheaper lol.

What is the difference between Baby Quasar and Quasar MD?

The main difference is the size of the treatment head. The Baby Quasar has a diameter of 3.2cm/1.5in vs Quasar MD's 5cm/2in, allowing the latter to treat a larger area. Also the Baby Quasar is $249 vs $399. All other technical specs are the same.
Article Sources
To keep my content accurate and trustworthy, I rely on peer-reviewed studies, articles from reputable academic institutions, and quotes from certified healthcare professionals to back my claims. No woo-woo clickbait nonsense here!