Say Hello to the Team at Canopy Grove
4 min read
Teamwork makes the dream work and at Canopy Grove by Wedgewood Weddings in Escondido, California General Manager, Nick Harrison, and Event Expert, Mikayla Nars, do just that. This dynamic team took a chance to share their thoughts about this beautiful venue, what they love most about working with couples, and what makes them tick in and out of the office.
Hello Nick! Thank you for taking the time to chat with me today at your beautiful property here in Escondido. Why do you think couples choose your venue?
Couples will fall in love with our venue and our experienced and amazing team. From the amazing sunsets to the event barn, there is so much to enjoy at Canopy Grove. The event barn also provides the perfect backdrop for photos, it's my favorite photo location onsite.
How do you like to support your team?
After starting my day with a cup of coffee, I like to have daily check-ins with my team so I can support them and make their work easier. They equally support me when they let me know what issues or hurdles they might have that day. I can be my best when I know where to help.
In an ideal world, how do you support your clients?
I love meeting all our clients and discovering their event ideas – so creative!
Day to day I have my hands full supporting my team, liaising with vendors, initiating community outreach, and setting everyone up for success. My approach of always being open to ideas, actively listening, and supporting all initiatives is reflected in my calm and cool attitude.
Nowadays, I'm not with clients as much as I'd love to be but I trust my team to support all their needs and create a unique and fun event.
What does being selected as venue manager for a venue opening mean to you?
It means a lot to know that I have the trust of my company to take on such a major opportunity and help the company grow. While I was training, Crystal Pilarski taught me to utilize the support from other departments when I was not sure about anything; the company is full of people in every department who are always willing to assist me. At Wedgewood Weddings there are so many amazing and supportive people that make this new opening possible, and I'm so happy to work with them as we take on this new property.
What's your background?
I've been working with Wedgewood Weddings & Events since 2015. I've held many different positions including banquet server, event expert, manager in training, and now general manager since 2019. I've loved working with clients who are just extremely excited to be getting married. Their enthusiasm makes working with them not even feel like work at times.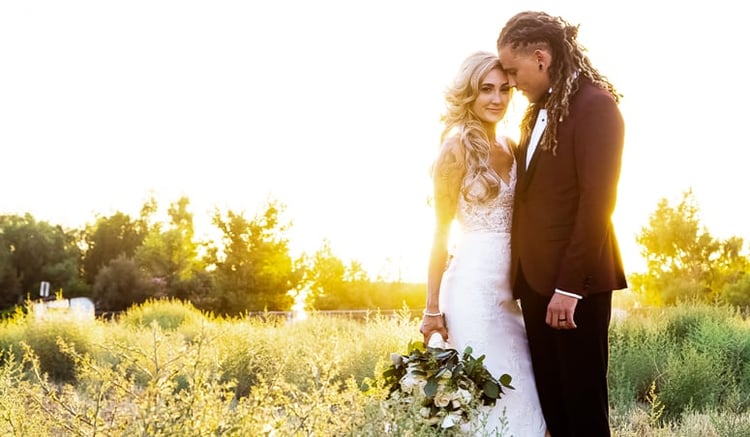 Now we turn our focus to event expert, Mikayla Nars! Also a team veteran, she is a California native whose career path took an unexpected turn when she found Wedgewood Weddings & Events. 
What led you to this career in events?
I needed a part-time job while studying to become a teacher in college, so I applied at Wedgewood Weddings' Contact Center. I quickly fell in love with the company and decided to change career paths to become a wedding planner! I had always helped plan events for friends and family. When I got the Contact Center position it just seemed like a perfect fit. I have been with the company since 2015 too, so I'm glad I made the leap and switched career paths!
What advice do you have for couples on their wedding day?
On your wedding day stay hydrated and have FUN! Most importantly, be in the moment. Don't be afraid to take a few minutes as a couple to stop, take a deep breath, and witness the celebration.
What advice do you have for newly engaged couples?
When you decide to start venue shopping, go in with an open mind about your wedding date. It's better to fall in love with the venue and then pick a date of your choice, rather than picking a date and settling with a subpar venue that has your date available.
What's the biggest misconception people have about wedding planners?
People think that we get to stay and party with the guests. While we would love to stay and celebrate with our couples all night, we need to get a good night's rest to prepare for our next wedding.
What should everyone know about you?
I love problem-solving! There can be many things that could happen on the wedding day that wasn't in the plan. As a wedding planner, you have to be adaptable and learn to cope with any situation. Outside of work though, I am a bit of an adrenaline junkie: I LOVE roller coasters and sky diving. I have even done intense sports like gymnastics and pole vaulting.
What makes you love SoCal and Escondido in particular?
Living in Southern California, I definitely like to take advantage of the outdoors. I love to take my dog to the beach, go hiking, roller skating, and go to concerts. I currently live in San Diego but grew up in Temecula and it will always have a special place in my heart! Escondido is a city full of beautiful valley views and is also a short drive to several beaches and Temecula.
…
Thank you so much Nick and Mikayla for taking the time to share your thoughts with us! If you're interested in working with this amazing team for yourself and booking Canopy Grove by Wedgewood Weddings for your nuptials, contact us now and let's start planning!