Summer Rollback Fashion – Affordable Friday!
11 min read
Good morning everyone! I know it's Wednesday, but I'm still calling this an affordable Friday post! Ha! I haven't done a fashion one in a while so I'm super excited to bring this back and I didn't wanna wait till Friday because I don't want things to sell out! So affordable Wednesday it is! Almost everything in today's blog post is not only affordable, but also on a rollback so it makes it extra affordable from Walmart! The majority of stuff I'm gonna focus on is fashion, but there are a few other things I bought on rollback that I just think are so great and such a great price that I wanted to share as well, like Molly's chair and our outdoor canopy. But first let's talk fashion!
Rollback Fashion!
Practical and Affordable Everyday Dress
I wanted to talk about this dress first because it is truly the most practical of the bunch and it is SO affordable.  I actually bought in the store and I was so happy when I found it online later because I was worried that I wouldn't be able to find it and I really wanted to share it with you guys. It's on rollback for $13! It was normally $18. This dress is so cute and one of those things that you can easily slip on to go run errands with a cute pair of white sneakers and feel great about your outfit. In fact, if you get this dress and these white sneakers you will only pay $24 total for the entire outfit! Shoes and dress! If that's not an absolute steal I don't know what it is. Get this dress, it's so cute and it would be great on a lot of different body types because you can dress the waist with the tie. I got a size medium which is my normal size. So it's definitely true to size and check out the reviews if you get a chance because other people love it as much as I do!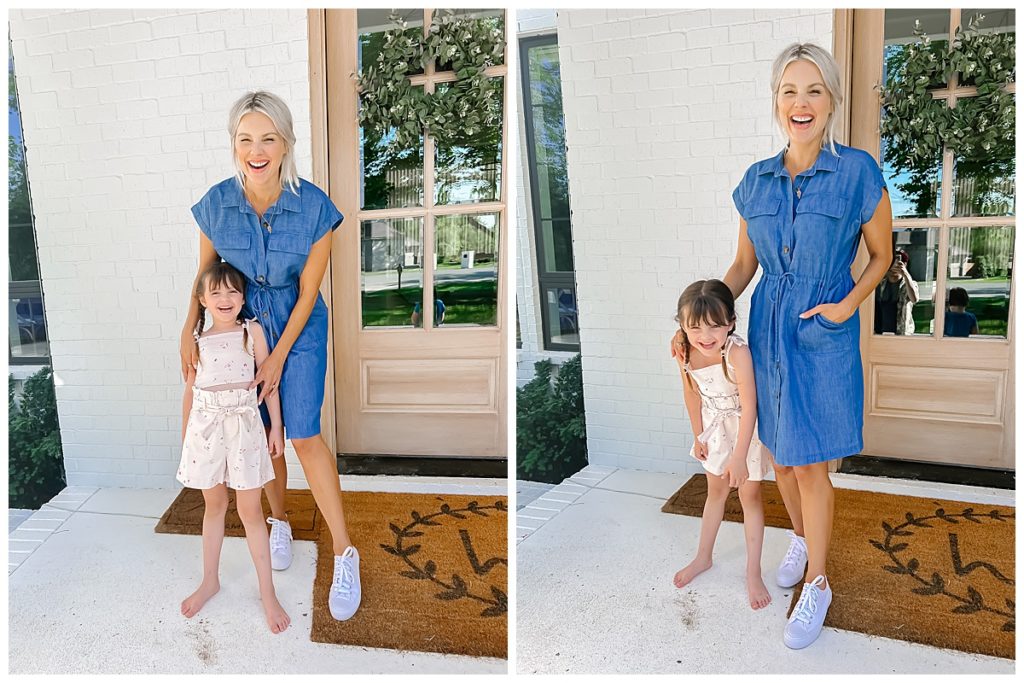 1. MY DRESS | 2. SNEAKERS | 3. MOLLY'S OUTFIT
I took a second to read the reviews and one person who is big busted says they wish they sized up because of their large bust so just keep that in mind if you have a bigger chest. But for me the size medium is perfect.
Molly's little outfit above is also from Walmart, so linking that here in case any of you wanted it for your daughter's! It is truly so darling on her, and she loves it so much!  It is only $24 for both the top and shorts!
Colorful Dresses
Let's start with some colorful dresses beginning with this beautiful plaid dress that's under $20! I love how light the material is. It's perfect for the super hot days we have here in Nashville during the summer, but it's not see-through at all! I sized down in this dress and got a size small. Just want to tell you guys that right off the bat. I'm normally a size medium, but I got the small so it would have a little more shape on me. And I'm so glad I did. I would've been swimming in the medium. I almost could do an extra small. So definitely size down and if you're in between sizes you might even wanna consider sizing down to sizes.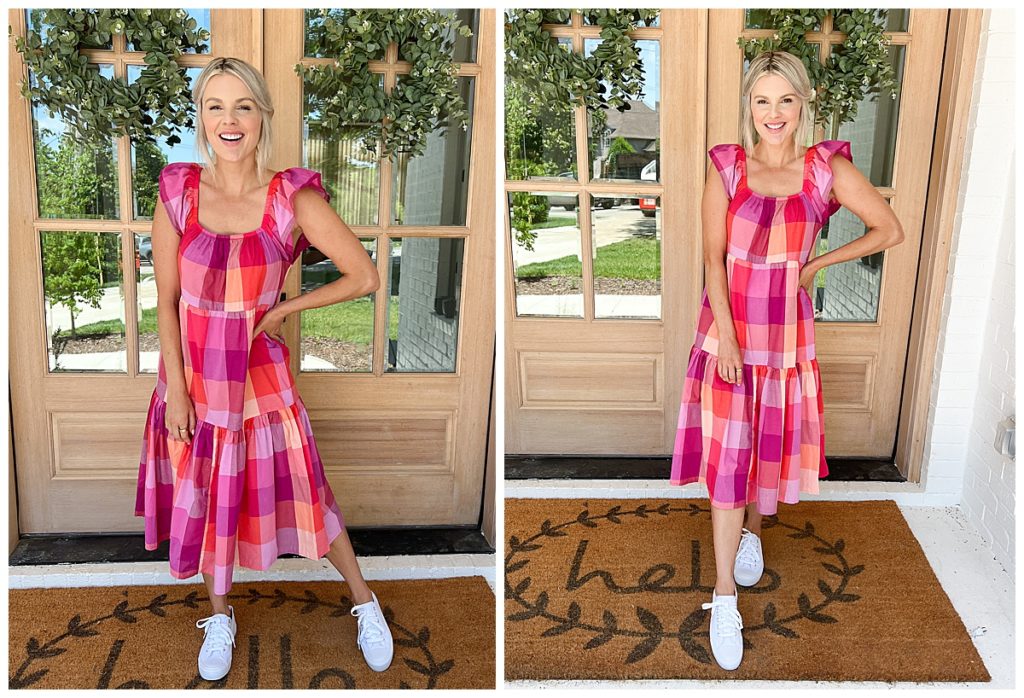 1. PLAID DRESS | 2. SNEAKERS
I also love that you can dress this dress up or down. I'm obviously wearing these really cute white sneakers that are on rollback for $11 FYI! Get these right now! And check out the reviews because they're all really positive! They're normally $15 to the fact that you can get them and even better price because they're on rollback for $11 is amazing!
The next beautiful vibrant dress I want to talk about is the stunning one shoulder color block dress. Oh my gosh, I feel so chic when I wear this. I feel like it looks super expensive too, and nope it's only $34! Such a steal for this dress seriously get it now! It comes in three other color combinations. I almost got the orange but I didn't think it would be right for my skin tone but if you have an olive or darker skin tone I think it would be fabulous on you! Or if you just love orange! The yellow is gorgeous too and I had a hard time not choosing that one. But the pink is beautiful and just makes me so happy!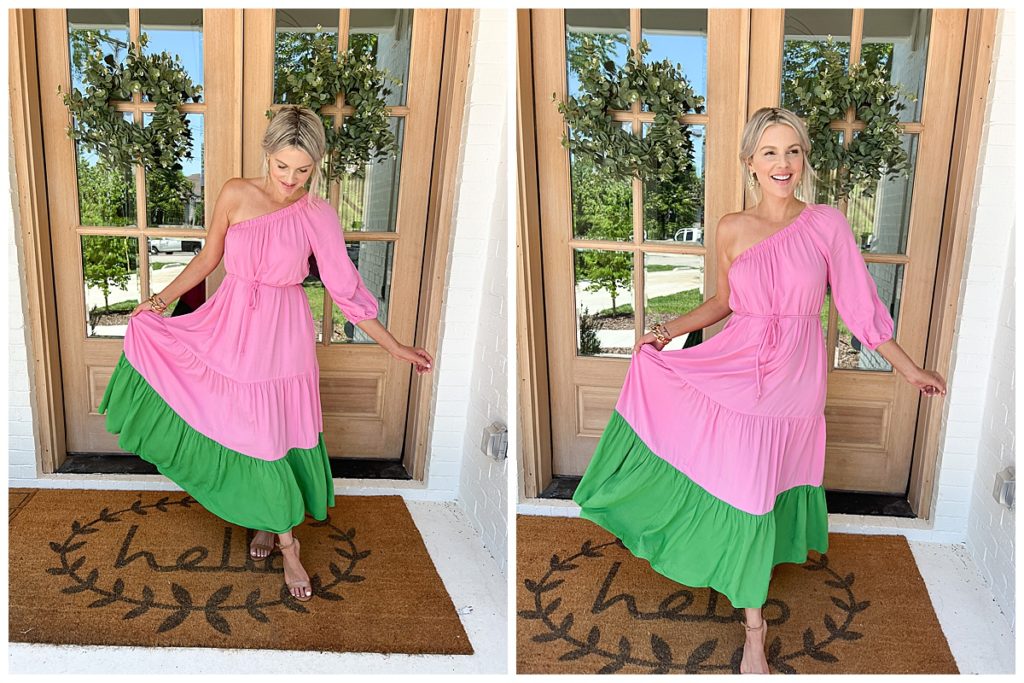 I got a size medium in this dress which is my normal size and it fits great. This just would also be really great if you're expecting. You can tie the front and would be really cute right over a baby bump.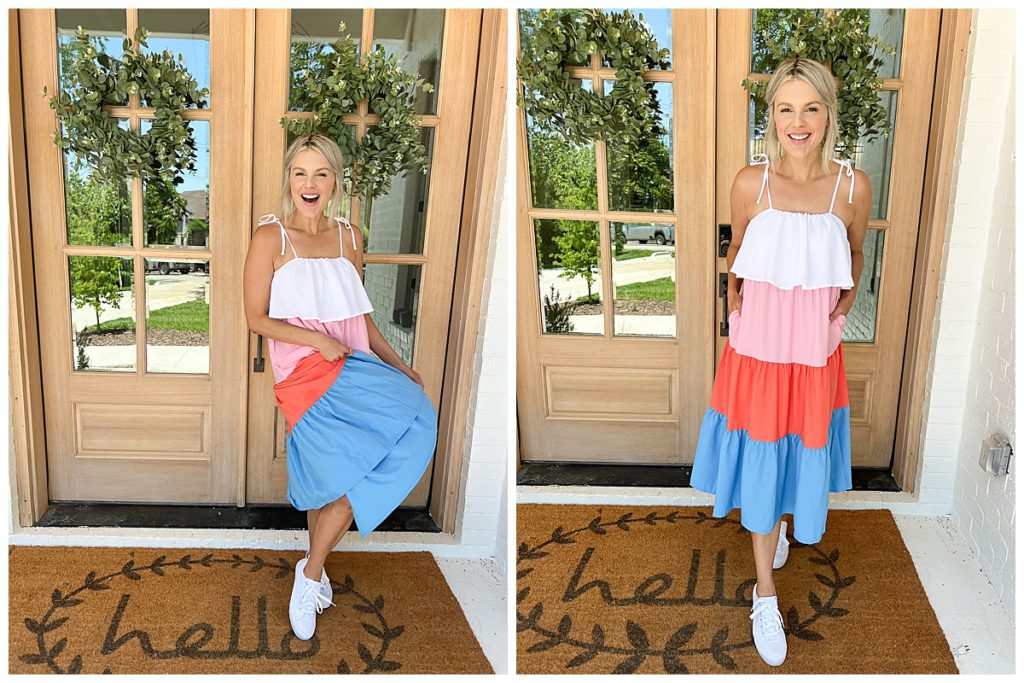 1. TIERED BLOCK DRESS | 2. SNEAKERS
And then the last really colorful dress is this tiered color block dress. It's under $20 and so much fun! I feel like this is the perfect vacation dress! I got a size medium which is my normal size. Although I probably could size down if I needed to. If this one ends up selling out fast in your sizing isn't available I think you could do a size down and be totally fine! Just don't size up. And truly you cannot beat the price at $19.98. Get this for your Vacay ASAP!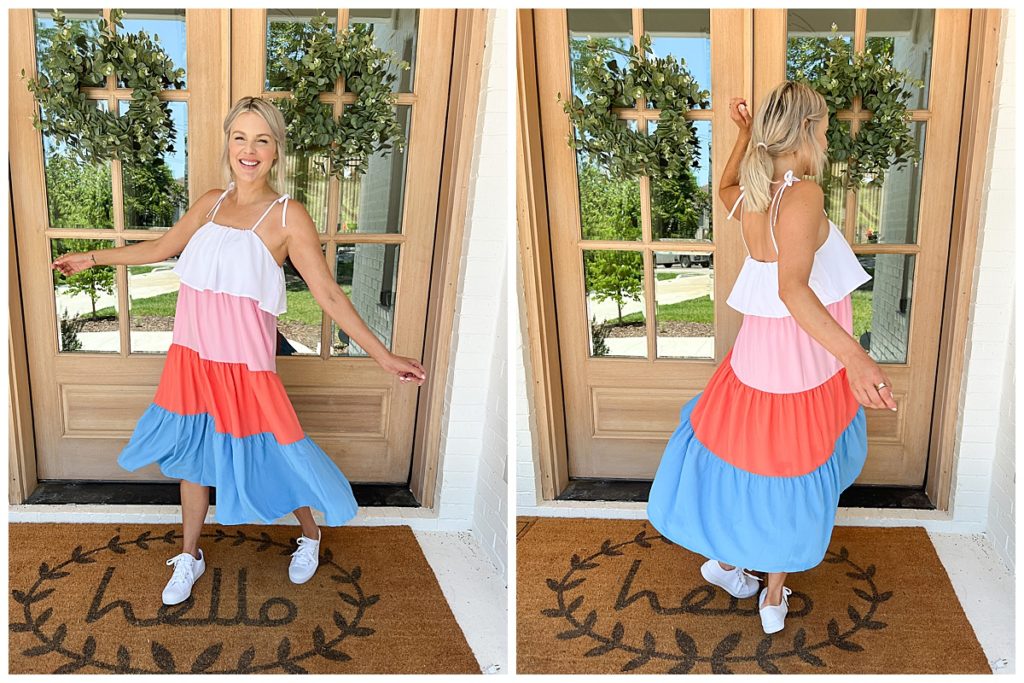 1. TIERED BLOCK DRESS | 2. SNEAKERS
More Dresses
Another really pretty floral dress that's just an absolute steal at $12 is this yellow floral one. It comes in a few different colors so definitely check out the others. One is a really cute striped print. That I almost got instead of this floral one. But I waited too long to purchase it and by the time I went to my car to check out it was already sold out of my size but the white/colorful stripe option is still available in some sizes so definitely check that out here. It's darling and I can't believe it's $12!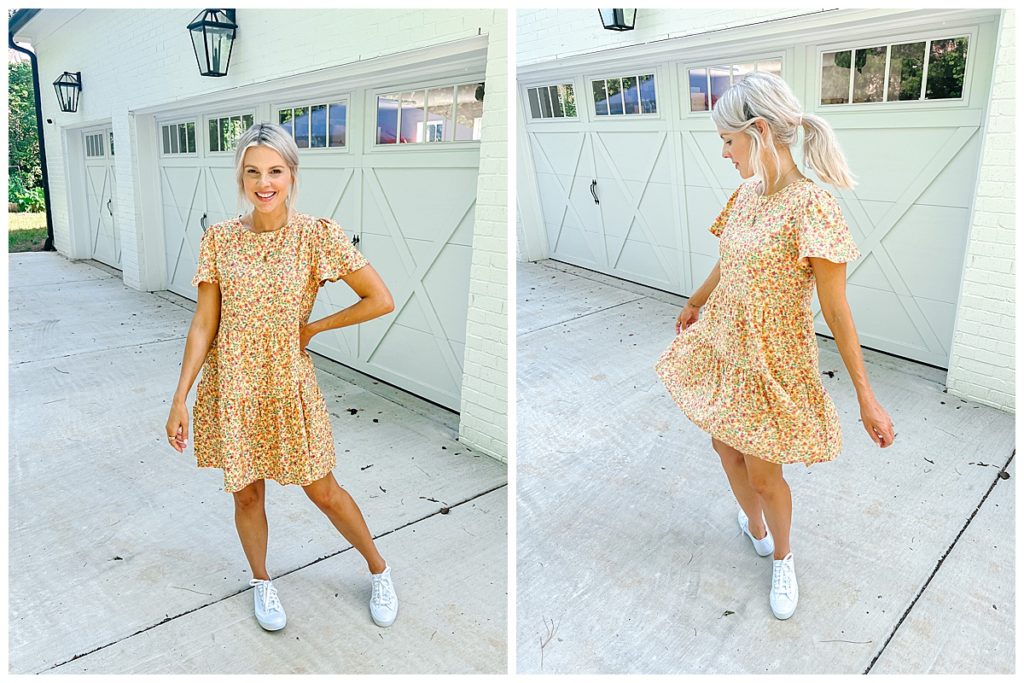 1. FLORAL DRESS | 2. SNEAKERS
This dress will definitely sell out very very quickly. It's super flattering because it's roomy and camouflages your tummy area if that's important to you. And it also has a really great flutter sleeve which is great for anybody who may be self-conscious about their arms.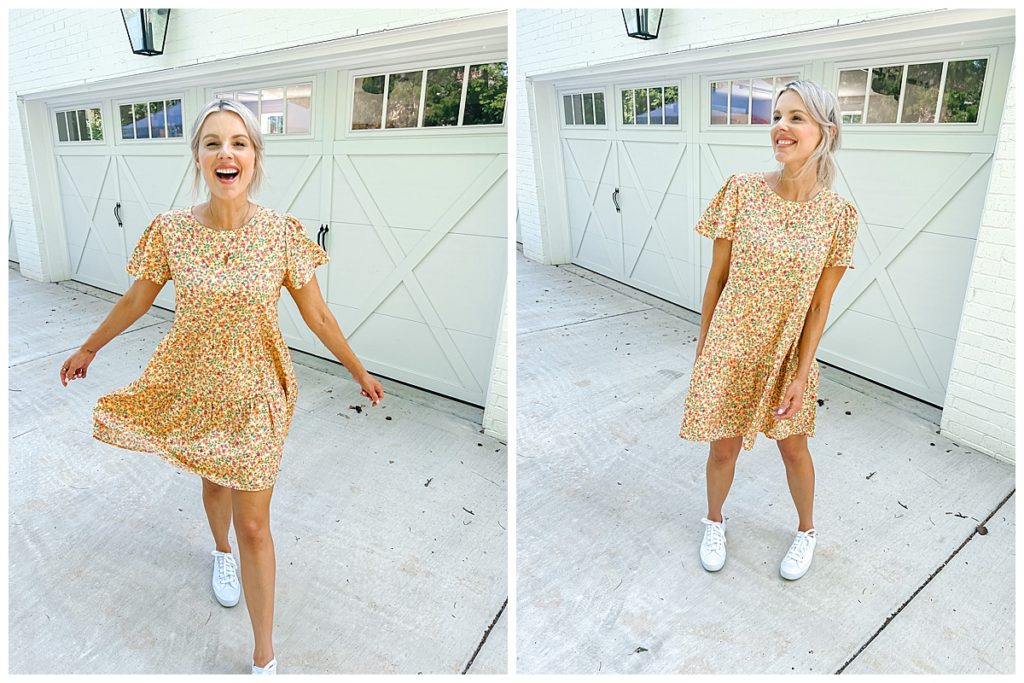 1. FLORAL DRESS | 2. SNEAKERS
Last but not least, I wanted to include a dress that I thought would be really great for an office look. A lot of times when I do these posts, I get messages asking for office options and this one was perfect because it's a dress that was normally $30 and it's on rollback for $12 right now! Honestly I don't even know how they choose what things to put on rollback because the reviews for this dress are super positive so it's not like it's because it wasn't selling well. People love it and so do I! One person's review says "don't sleep on this one!" And I couldn't agree more. If you love this get it before it sells out. I got a size medium which is my normal size. I feel elegant and chic in it and I feel like it looks like some thing I could've bought a boutique for $150. But nope 12 bucks it is!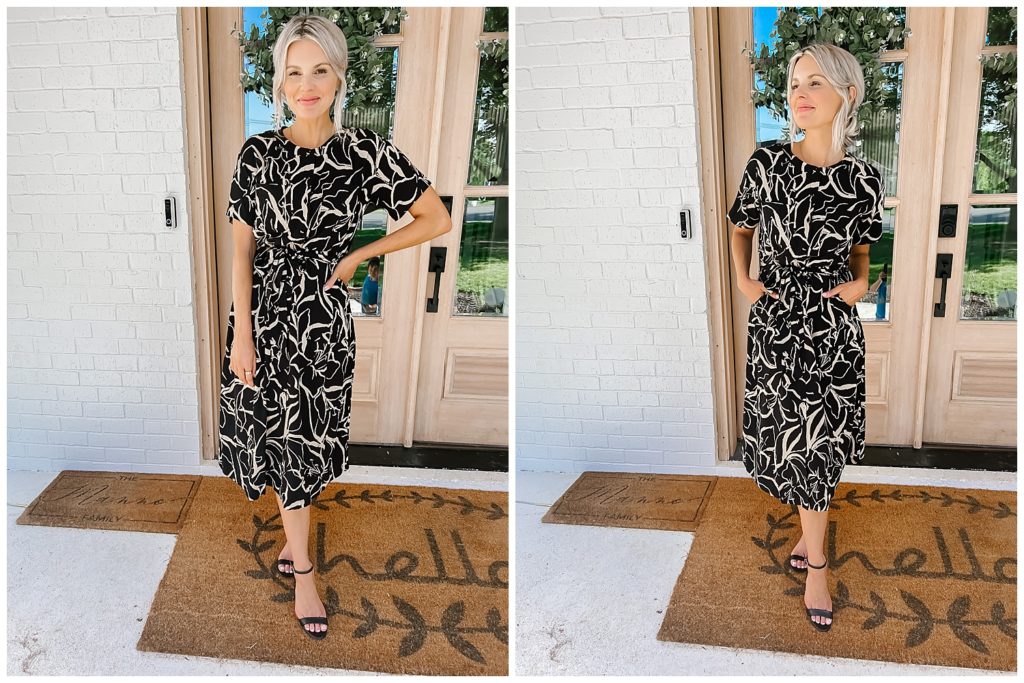 Cover Up and Shorts
And oh my gosh snag this cover-up as fast as you can I've worn a lot of coverups in my days in this accident this one is only $11 is such a steal and it is so so so so so flattering! A coverups all about how it lays on your body and some can be really unflattering and frumpy looking. This one is not! It comes in a few other colors as well. I'm wearing it with a simple white tank and these at $12 pair of shorts. Also on rollback!

The shorts are definitely more fitted than I normally wear in a denim short. But I realize that I kept writing about denim shorts that have a line so they don't fit tighter on your thigh and people kept telling me that some people like jeans shorts that are tight around their thighs so I wanted to give an option for that! These are definitely the type of Jean shorts that people will love if you love a formfitting pair that show off your curves! Plus they're super stretchy so they will move with your body! Plus they are only $10.98!!!!
Other Rollback Items
A few other thing is that I just had to include in this post because I got them on rollback are things like this adorable pink children's chair that I got for Molly's room. Technically it's an outdoor chair, but we really needed something to fill a small space in her room and this chair was just perfect! I was a little worried it was gonna be too small for her but it's great and she'll get a couple years use out of it. And then Riley will want it! In fact, he was a little disappointed he didn't get one when I bought this one for Molly so I went ahead and ordered the natural color one for Riley. It's a beautiful natural wicker with an off-white cushion which is so cute. And it's on rollback so I wanted to share!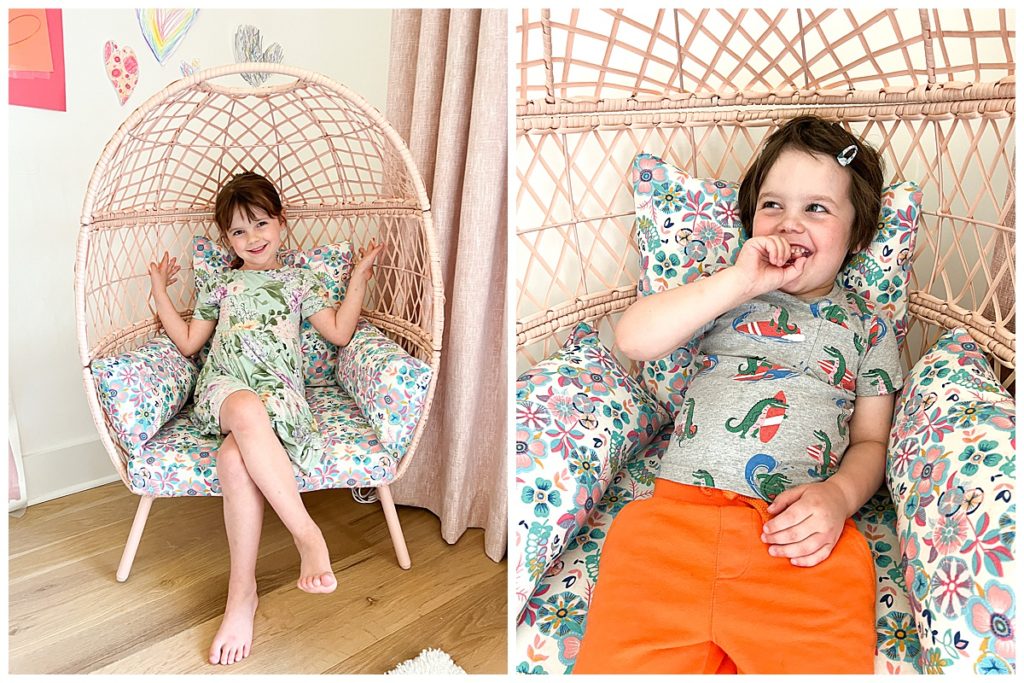 1. PINK WICKER CHILDREN'S CHAIR | 2. NATURAL WICKER CHILDREN'S CHAIR
I also finally got gardening tools! You would think for how much I love gardening that I would've already had some, but I totally didn't. So I went ahead and got this blue set because they're on rollback and again I can't resist a good deal. Plus I truly just needed them. To get three gardening tools for $16 is a pretty great deal.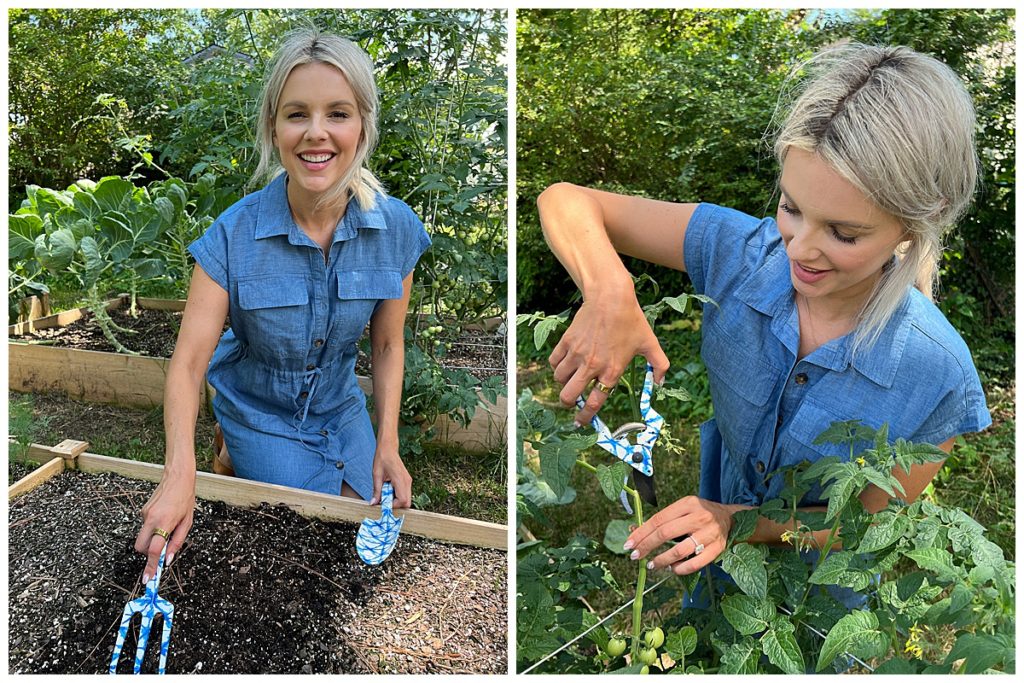 1. DRESS | GARDENING TOOLS SET
Another thing I bought but don't have a photo of is this hose hanger cabinet. Our hose just lies in a big pile in the dirt and I needed something nice to store it and this is really great cause I can put my gardening tools in it as well.
Also linking a few games I got for the kiddos on rollback. They are obsessed with this iSpy Dig In. They love anything iSpy. We play all the time when we're driving in the car and they love the Where's Waldo books. So this was just a great option as a game for them. I got it for $16 because it's on rollback. It's normally $25. Linking a few other games below that are also on rollback for you guys in case you're looking for something for your kiddos.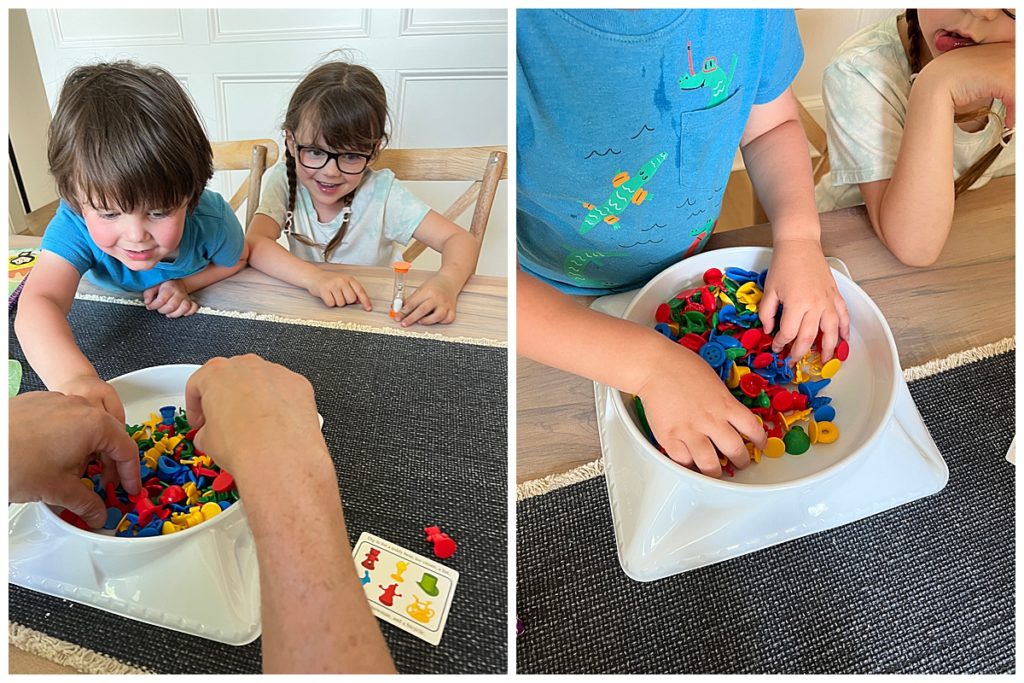 I also have to share this 10 x 10 instant canopy. It is so so so so quick and easy to put up and it's a great option for family get togethers to throw up so people have shade. I wish I had this for Riley's birthday. It was so hot and people were trying to huddle in different areas for shade, but it wasn't near where the games or the food was so that's why I bought this. For Molly's birthday coming up I want to be able to set it up for shade and it's on rollback for $74 right now. It's normally closer to $100.
 Outdoor Rocking Chairs
I can't go without linking these incredible chairs! We've had numerous different kinds of outdoor chairs over the years and the other day our friends Cody and Bryce came over and they had one of these outdoor tent chairs that folds up but then converted into a rocking chair and we were obsessed! They were raving about how awesome it is and how much their friends love it and we were no different from their other friends. Ha! I am immediately went online and found these from Walmart and bought two! They have over 400 really positive reviews so that was a huge selling point for me. I absolutely love love love how easy it is it to take off the rocking chair base and turn it into a regular chair if you want it. Plus, it's super well-made and sturdy.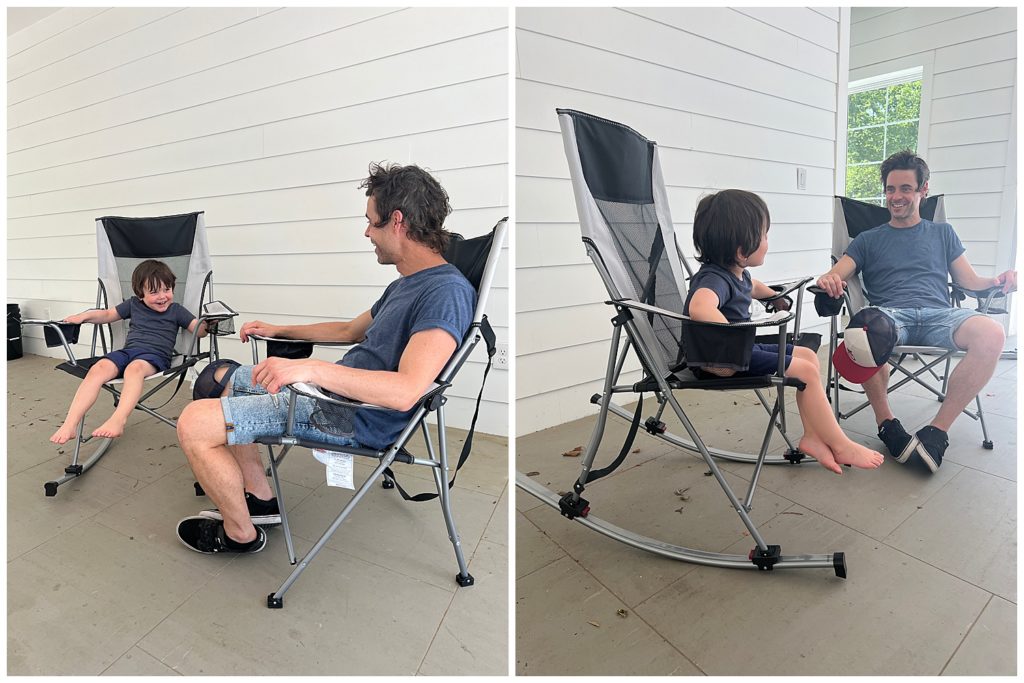 If you've been looking into get getting something like this I highly recommend checking out the reviews and considering these because they are amazing!
Oh and one more thing, these chairs are so roomy! And comfy! It's hard to really explain until you sit in one. But again just read the reviews and you'll be sold. They are worth spending a little extra to get some thing amazing like this!
Backyard Furniture!
Before I go I have to link some of my favorite outdoor furniture that I found at great prices on Walmart site! But I feel like I'm always so indecisive about making a final choice so I need you guys to help me! There's basically two different kind of looks/vibes I'm thinking could work really well. One is more natural tones like the things link below. I mean how gorgeous are all these pieces by Better Homes and Gardens? The four piece set is seriously ridiculously affordable for how expensive it looks. If you read the reviews, people keep saying the same thing that it looks like a designer brand for such a more affordable price.
Plus, I love the neutral wood tone and then of course the white cushions. However because there's going to be a lot of white pavers in the backyard I'm wondering if I should go with a darker tone other than a wood tone. But I don't know!

So the next option would be the items linked below. With a darker base and still light cushions. You know me! Ha! I think either could be really beautiful but I'm just having a hard time picking.

What do you think? Do I go with the neutral color base or a darker color base to be a more contrast against the white pavers? Tell me what you think in the comments below!